New products
IPG20 Intelligent Pump Guard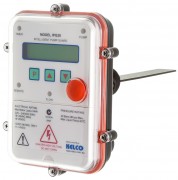 F29 MK2 Programmable Flow Switch
Features
Multi Voltage Operation
10 Programmable Timers Built In
Powerful 40Amp Solid State Drive
Dedicated 16A Alarm Relay
Detachable Electrical Housing
18 Bar 261 psi Rated Standard Model
200 Bar 2900 psi Model Available
Suits Pipes 1" & Larger
Accepts 2 Remote Inputs
Weatherproof Housing
Ordering
The F29 MK2 programmable fl ow switch is available in various configurations to suit specific applications.
Trailing wire versions for flows containing entrained solids are also available. Please contact your supplier for
further information.
Further Information
D40 Heavy Duty Single Point Level Regulator
Features
5 to 500V AC 15A 1.5kW (2HP) Switch
No metal parts in contact with liquids
40mm level change on to off or off to on
Highly reliable magnetic action
Fully sealed IP67 electrical housing
M20 cable gland built in
Mounting brackets supplied
Application
Confined locations in sumps and pits
Bund area warning alarms
Cooling tower water level control
Bilge water level alarm for boats
Suits effluent & high solids uses
Suitable for sea water & chemicals
Level monitoring in wells & bores
Operating Principal
The D40 level switch operates on Archimedes principle. When the non floating Polypropylene
displacer suspended from the switch is immersed in liquid its weight is reduced by an amount
equal to the weight of the liquid it displaces. This weight change is detected by a magnet and is
used to actuate a powerful switch inside the electrical head of the D40. The D40 is designed to
be used in water with a specific gravity of 0.95 or greater.
Further Information
Latest News
Introducing the IPG20 Intelligent Pump Guard
The ultimate protection device for helical rotor & centrifugal pumps Originally designed for the protection and control of helical rotor pumps in dairy effluent systems, the IPG20 also functions as a precision over and under pressure and flow protection device for centrifugal pumps of all sizes. The IPG20 is able to learn the pressure characteristics of the system it is installed in and automatically compensate for pressure change due to changes in water level and in changing ground elevation in both fixed and travelling irrigation systems. It is able to differentiate between natural pressure drift and genuine fault conditions and to shut a pump down as soon as a fault is detected. The IPG20 includes many advanced features and functions allowing it to be configured to suit most irrigation systems large and small. Further information can be found at the following link:
IPG20
Introducing the F60 Pump Controller
We are proud to announce the long awaited relaese of the Kelco F60 pump controller. This new product has been in development for three years and is our most advanced controller to date.  More infromtion including YouTube video presentations can be found at the following link:
Kelco F60
 Paddle Trimming Calculator
We have added a new easy to use paddle trimming calculator to our website. Previous versions of this calculator were Microsoft Excel based. The new calculator can be found here:
Calculator
Adobe Reader download
For downloading and reading PDF documents, Adobe reader is required Download Adobe Reader Here