New products
IPG20 Intelligent Pump Guard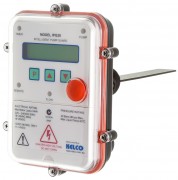 FEATURES
Stainless steel or Polypropylene
Built in manual override
15 Amp 500 Volt SPDT Switch
Unique Seal-less coupling
Weatherproof to IP67
 Simple to install
 Fully serviceable
Description
The L Series side entry level switch provides a reliable accurate and low cost solution to tank level control. The switch is available in all thermoplastic construction in a combination of 316 Stainless Steel and Polypropylene. The level switch can be supplied with a 500 Volt rated single pole double throw microswitch for general control circuit use or with a SPDT reed switch for low voltage low current applications. The L series level switch is built tough to give a long reliable service life in the most arduous applications.
More Information
Australian made
Fully adjustable two position switching
2 HP Rated 20 AMP S.P.D.T. Switch
No metal parts in contact with fluid
-1 TO 18 Bar pressure rating
All thermoplastic construction
Weatherproof housing
Super reliable magnetic action
Universal mounting bracket supplied
Description
Modern thermoplastic piping and tank systems demand modern controls. The D30 level switch is a rugged versatile liquid level switch that integrates state of the art magnet technology with one of the most fundamental principles of physics to achieve a sensible and reliable solution to the problem of controlling the level of liquids in tanks and sumps.
Applications
Sump pump control
For either pump in or pump out
Water tank level control
Effluent and liquid waste level control
Suits slurry and high solids applications
Septic and sewer pump out control
Cooling tower control systems
Suitable for sea water and many chemicals
More Information
D30 Without Mounting Bracket
D30 With Mounting Bracket
AutoCAD Drawing