New products
The F60 Pump Controller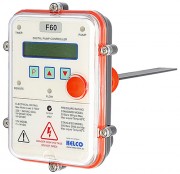 Features

0 to 500V AC 15 Amp S.P.D.T switch
PLC versions available
316 Stainless or Polypropylene models
1" BSP & 1" NPT models available Manual override built in
Modular construction
200 Bar pressure rating Seal-less magnetic drive
Diesel models available
Weatherproof IP67 housing Easily serviceable
Outline
The F21 flow switch is a tough but highly sensitive paddle flow switch suitable for a wide range of flow control
applications in both hot and cold liquids. The electrical housing of the switch is a separate assembly and locks
onto the wet end of the switch. It can be easily and safely removed for servicing, without disturbing electrical
wiring. This unique feature, and the inclusion of a built-in manual override make the F21 a very versatile flow
switch. In addition to the standard microswitch models the F21 is available fitted with reed switches for PLC,
relay logic and telemetry applications.
More Information
F21 Series Data Sheet
F21 Series Installation Sheet
Related Products
F20 Series Paddle Flow Switch
F25 Series Paddle Flow Switch
Paddle Trimming Calculator
Australian made
0 To 500 VAC 15 Amp S.P.D.T Switch
Stainless and Polypropylene models available
3/4 BSP & 3/4 NPT Models available
Manual override built in
Modular construction
200 Bar pressure rating
Seal-less magnetic drive
Diesel models available
Weatherproof IP67
Easily serviceable
Description
The F20 flow switch is a tough but highly sensitive paddle flow switch suitable for a wide range of flow control applications in both hot and cold liquids. The electrical housing of the switch is a separate assembly and locks  onto the wet end of the switch. It can be easily and safely removed for servicing, without disturbing electrical wiring. This unique feature and the inclusion of a built in manual override makes the F20 a very versatile flow switch.
Data sheets
Related product
Paddle trimming calculator
Cad file
F20 Parasolid (.X_T) Right click and choose to save the link. Save the file with extension .x_t
Australian made
Reliable robust construction
Weatherproof enclosure IP56
All wetted parts in thermo plastic
No metal parts in contact with fluids
Fully adjustable flow sensitivity
Suits pipe sizes 25MM to 150MM +
Reed switch or solid state output
Totally serviceable design
Full 18 Bar (260 PSI) pressure rating
Energy authority approved
Description
The F25 series flow switch has been specifically developed to fill the need for a flow sensor, capable of working reliably in applications in which metal flow switches fail.
Typical areas include chemical, process, pharmaceutical, scientific and agricultural uses in which the metal components of traditional flow switches either interfere with,
or are attacked by, the liquids being handled. Modern thermo plastic pipe systems are used extensively in agriculture, industry, and in commercial and domestic fluid
handling. The F25 flow switch has been specifically designed to integrate into plastic piping systems, and to enhance the advantages of such systems. Total avoidance
of metal components, in the fluid stream, has been achieved. In addition, an advanced frictionless sensitivity adjusting system gives total external control over the
switching threshold.
Applications
Loss of flow protection for pumps
Control of flow in ultra pure water systems
Flow status signalling in water treatment plants
Control of effluent and fluid neutralising systems
Corrosive and saline ground water applications
Applications involving sea water or brine solutions
Safety and control signalling for chemical handling
Control and protection of chemical pumps
Irrigation and turf watering systems control
Horticultural and hydroponics system control
More Information
F25-A-240 & F25-A-24 WIRING DIAGRAMS:
Cad Drawings
Related Product
Paddle trimming calculator
Reed Switch Information